Education
At the UT Southwestern Peter O'Donnell Jr. Brain Institute, our next-generation research programs don't end in the lab. Our discoveries make a difference in our patients' lives and across the world.
Program Highlights
Our graduates go on to academic, nonprofit, and government positions at some of the most esteemed institutions in the country.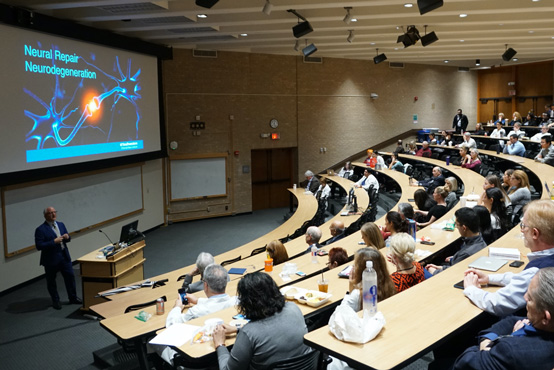 O'Donnell Brain Institute Grand Rounds
Our take on Grand Rounds demonstrates our commitment to an integrated environment. Faculty and trainees from neurology, neurosurgery, psychiatry, physical medicine and rehabilitation, and neuroscience come together to learn how research advancements in brain science are being translated to the clinic.
In this interactive quarterly lecture series, we host internationally and nationally recognized leaders doing innovative work at the intersection of science and clinical care – from the neurobiology of central nervous system regeneration to the genetics of autism or schizophrenia.
See all of the upcoming O'Donnell Brain Institute educational events.
Ph.D. Programs
Clinical Fellowships
Our fellowship programs bring together research and treatment into next-generation care for brain disorders.
Residencies
We offer outstanding clinical training in all areas of neuroscience, from neurology to psychiatry and beyond.
Faculty Support Programs