Clinical Neuroscience Scholars Program
The O'Donnell Clinical Neuroscience Scholars Program provides outstanding junior faculty with mentoring in brain disease-related disciplines so that they can become nationally recognized experts in their areas of interest. The program supports both faculty recruitment and ongoing mentorship to promote enduring excellence in state-of-the-art, personalized, and empathetic patient care.
Application Deadline: February 28, 2023
Program Structure
Financial Support
Each scholar will receive $1 million to be used over five years. Each year, $100,000 will be used for salary support and $100,000 will be used for scholarly work, which may include teaching or patient-centered research.
Senior Mentor
A master clinician will serve as a senior mentor to each O'Donnell Scholar. Scholars and mentors will be paired within their shared clinical specialty.
Multidisciplinary Mentorship Team
Each scholar will be supported by a specialty-specific clinician, alongside a multidisciplinary mentorship team to increase professional development.
Meet Our Scholars
Dr. Jha, a researcher in the Center for Depression Research and Clinical Care (CDRC), aims to develop novel treatments for patients with mood and substance use disorders. Dr. Jha conducts clinical trials on novel compounds for treatment-resistant depression and studies of individuals with stimulant use disorder with his senior mentor, Madhukar Trivedi, M.D., Director, CDRC.
"As an O'Donnell Brain Institute Clinical Neuroscience Scholar, I hope to develop my program of research in understanding the brain mechanisms of stimulant use disorder and identify circuits that can serve as targets for future experimental medicine studies."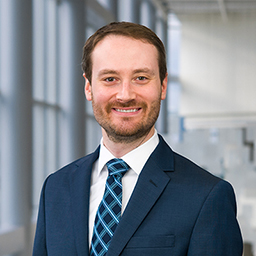 Dr. Lane is a neuropsychiatrist with a special interest in epilepsy. He is part of UT Southwestern's growing Geriatric & Neuropsychiatry Clinical Program, directed by Dr. Molly Camp, and conducts neuropsychiatric evaluations with epilepsy patients who are candidates for surgery. His clinical research focuses on biomarkers to predict post-surgery outcomes for patients with intractable epilepsy with the aim of guiding patient discussions on prognosis, treatment, and management.
"An enormous strength of the CNS program is in the mentorship it provides, allowing early-career faculty to further our understanding of the brain with the guidance of senior clinician-scientists."