Division of Neuroradiology
The Division of Neuroradiology provides both diagnostic and therapeutic neuroradiology services to the UT Southwestern community and beyond. Through top-notch patient care, highly active research programs, and rigorous training for tomorrow's leaders in neuroradiology, we aim to improve the quality of life and outcomes for our patients.
Featured Research Approaches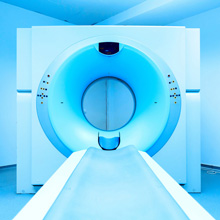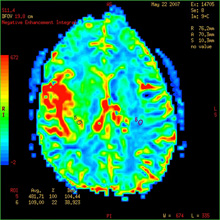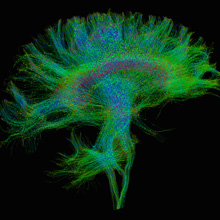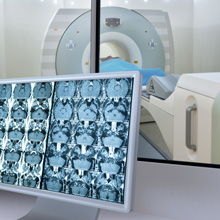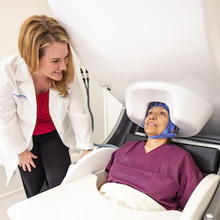 Magnetoencephalography (MEG)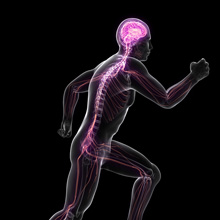 Complex Spine and Neuro-interventional Procedures
Our Philosophy on Collaboration
The Division of Neuroradiology is an integral part of the O'Donnell Brain Institute, effectively acting as its neuroimaging arm. We provide clinical and research services that include brain, head and neck and spine imaging as well as neurovascular and neurointerventional procedures. Strong links exist between our division and UT Southwestern's Advanced Imaging Research Center.
The division is involved in a variety of initiatives that further the OBI's mission of becoming a national center of excellence for the diagnosis and treatment of brain disorders, such as:
Intracranial Pressure Disorders Clinic: Patients with intractable headaches may have low cerebrospinal fluid due to a leak along the spinal axis. Several neuroradiologists play a key role in this clinic, helping to diagnose and treat these leaks.
Spine Clinic: The division has an active spine service, providing interventions such as vertebroplasty as well as MRI, CT, and other diagnostic studies.
Neurovascular interventional service: A dedicated group of physicians perform neurovascular procedures such as endovascular coiling, a minimally invasive technique to treat certain aneurysms and arteriovenous malformations.
Training Highlights

The Division of Neuroradiology provides rigorous training opportunities for residents and fellows in the Department of Radiology.
Trainees receive a well-balanced education in varied health care settings. They gain pediatric imaging experience at Children's Hospital and see a range of common and complex pathologies from all over the region at UT Southwestern. Parkland Memorial Hospital, the primary county hospital of Dallas, offers a unique social and clinical environment with a diverse patient mix.
Residents and fellows see the full range of neuroradiology procedures, including spine and neurovascular interventional procedures. Trainees are well prepared for careers in academic or private practice settings when they complete the program.
Our diverse faculty has training and faculty experience from top-notch programs such as Stanford, Mass General, Penn, and Wake Forest. A combination of distinguished senior and enthusiastic junior faculty provides great opportunity for mentorship.
High-quality 360-degree neuroradiology training covers all aspects of neuroimaging. Trainees receive excellent exposure to advanced neuroimaging techniques by our internationally recognized faculty. Our expertise includes functional MRI; perfusion imaging, including arterial spin label MRI; diffusion tensor imaging; and complex spine and neuro-interventional procedures. UT Southwestern has one of the few centers in the country with a MEG facility and an advanced neuroscience imaging research lab.
Go to Division of Neuroradiology